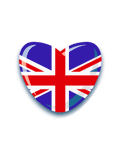 Welcome to a new month and a new theme! England is so hot right now that we decided to dedicate our theme to it. We also have the pleasure of welcoming a new Guest-Star: the talented Virginia Lu! Virginia is the one who came up with the smashing idea of using the Queen's hats as creative prompts and she's made fantastic cards based on it.
Bonjour! Et bien nous voilà en mars... nous sommes heureuses de vous présenter aujourd'hui notre nouveau thème du mois.
Pour l'introduire, nous avons le plaisir de recevoir une nouvelle Guest Star : Virginia Lu.
Elle est venue vers nous avec un sujet d'inspiration : les chapeaux de Sa Majesté, la Reine d'Angleterre...
Alors, durant tout le mois, nous aurons le plaisir de vous présenter divers sujets sur cette chère Albion.
A word from
Virginia/ un mot de Virginia :
I am deeply honored to
be the March guest designer on the amazing Scrap Rendez-Vous! The
challenges, tutorials are simply inspiring and informative. Thank you for
allowing me to share my creations with you.
Je suis très honorée d'etre la guest-star du blog Scrap RDV. Les défis, tuto sont très intéressants. Merci pour cette opportunité.
I am always fascinated with
paper. When I was little, I love going to the stationary store and looking
through the paper selection. Growing up in Taiwan, I got my BA degree in German
Language and Literature in Taipei and later a Master's Degree in
Education from U. of Ottawa, Ontario, Canada. I have spent half of my lifetime
in Canada now and have considered myself a new Canadian. I started stamping around the time when my son was a baby. That was
16 years go.
Le papier en général me fascine. Quand j'étais petite, j'adorais me rendre au magasin de papier à lettres et regarder toute leur sélection. J'ai grandi à Taiwan, fait une license d'allemand à Taipei puis une maitrise à l'université de Ottawa dans la province de l'Ontario, au Canada. J'ai découvert le monde des tampons lorsque mon fils était petit, il y a 16 ans de cela.
In 2009, I became more into it after my
daughter gradually settled her new life in university. That's when
I joined Hero Arts Flickr group. I grew more and more passionate
about card-making ever and never look back since. It's been a fulfilling
journey to create, exchange and even meet some talented crafting friends
around the world.
En 2009, lorsque ma fille est allée à l'université, ce loisir créatif est devenu une véritable passion. C'est à ce moment là que j'ai rejoint le groupe Hero Arts sur Flickr et depuis je suis mordue des cartes. J'ai meme eu la chance de rencontrer d'autres artistes du monde entier.
***
What inspires me?
Ce qui m'inspire?
I drew inspiration from everywhere
and anywhere. After I became an avid card-maker, I love looking
through Etsy shops, magazines, store displays, blogs, fashion, trends from
celebrities....etc. I love to keep an open mind and let
my imagination run wild. I love that when the creative "magic"
happens. My approach in stamping is to use stamps in as many creative
ways as possible. I love it when a card/project can leave you with
a happy smile and make you feel content.
L'inspiration me vient de partout: Etsy, les magazines, blogs, la mode...j'aime garder un esprit ouvert à toutes sortes de sources créatrices et j'aime cet instant magique où le mojo s'empare de moi. Avec le stampons, c'est pareil, je cherche à les utiliser de toutes les façons possibles et ce que j'aime par-dessus tout c'est faire plaisir avec une de mes cartes.


***
Here is our first creative-prompt called
GOD SAVE THE QUEEN
, the one you can use to create anything paper:
Voilà donc les photos dont Virginia s'est inspiré pour faire ses cartes : les chapeaux colorés de la Reine...nous appelerons cette première partie:
GOD SAVE THE QUEEN
Virginia's cards / Les cartes de Virginia:
We hope you are game for celebrating Virginia, our Queen of Cards ;-))
If you'd like to participate, please email us your take on the Queen's Hats ( ref. GOD SAVE THE QUEEN ) you have until March 30Th.

Et vous, que vous inspire ces photos? Cartes, pages, objet altéré... n'hésitez pas à nous faire partager vos réalisations... Vous avez jusqu'au 30 mars pour nous faire parvenir par email votre (vos) participation(s) ( réf. GOD SAVE THE QUEEN ) Bonne journée et à bientôt avec nos réalisations!